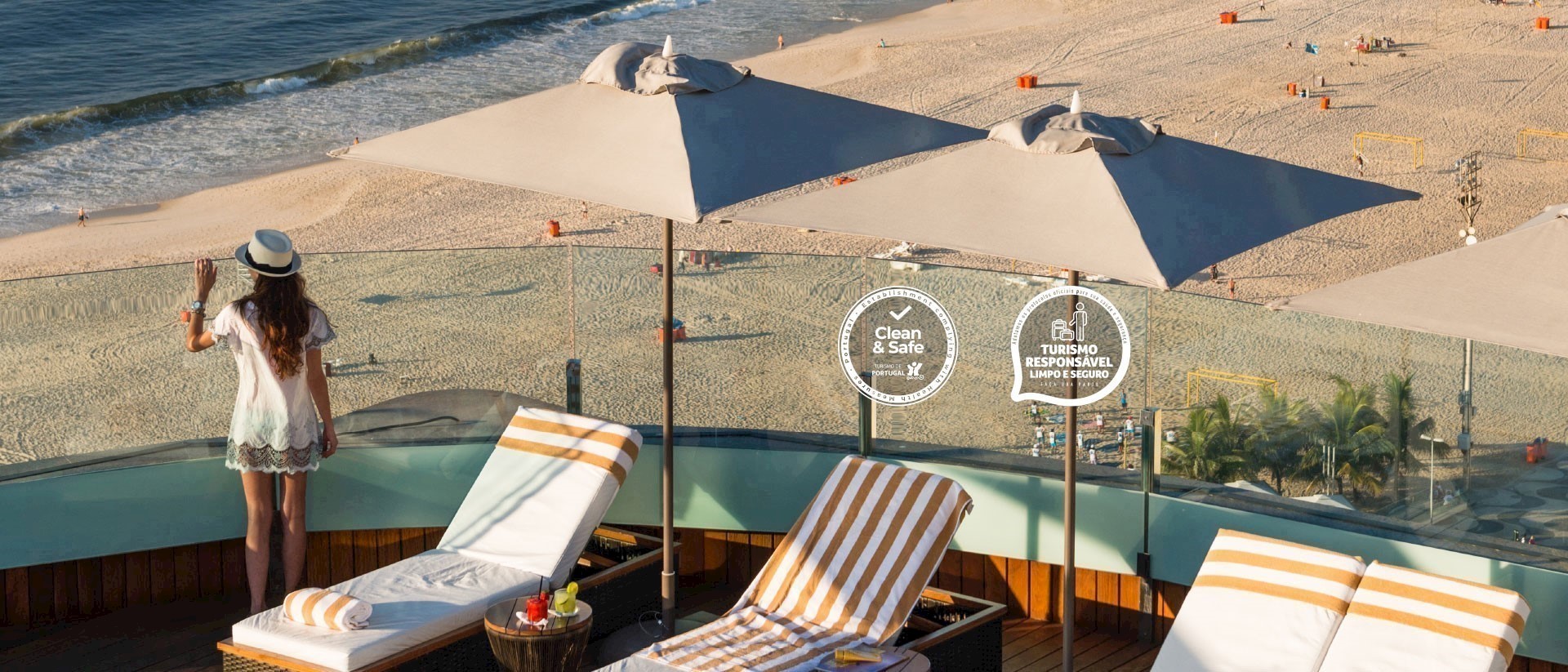 20.07.2022
HEALTH AND SAFETY PROTOCOL
together we care
An equitable harmony of security and experience
It is the PortoBay Group's top priority to protect and ensure the safety and well-being of it's guests, customers, and colleagues. And our high standards of hygiene and cleanliness throughout our hotels have been widely recognised by our guests. In 2021, the GRI (Global Reputation Index, Review Pro) for PortoBay Hotels & Resorts was 92%, result of 9 216 reviews, and amongst the various criteria evaluated, Cleanliness and Hygiene scored the highest at 96%.
In view of the COVID-19 pandemic and given the need for a rigorous response to the requirements and procedures of this situation, an internal multidisciplinary committee was created responsible for the implementation, certification, training, and auditing of the action plan considered essential for the reopening of each hotels.
This action plan is fully aligned with the recommendations of the WHO, and guidelines from both National and Regional health authorities. Moreover, our hotels have been accredited with Turismo de Portugal Clean & Safe certification. PortoBay hotels are certified by SGS in the management of biological risks.

Consequently we have created our "Together We Care" protocol – this is a representative adaptation of leading regional, national, and international health directives, and coincides with our ever present mission at PortoBay: to provide a memorable experience for each and all our guests. Whilst there is certainty that a number of these proceedings will become the new norm, we also hope and believe that in time some of these extraordinary measures will only be temporary.

This protocol has been developed in detail for procedures of both our Back of House and Front of House operations – below is a summary.
RECEPTION
Express Check-in: Both pre-check-in and online check-in are available via the website or mobile devices.
Cleaning Regime: Greater cleaning frequency of surfaces and guest supplies, as well as air conditioning units.
Covid-19 Kit: Hand sanitiser, paper towels and masks available on request
Social Distancing: Stanchions for separation of check-in and check-out queues, floor markers to promote social distance and spacing.
Customer Service: Information is digitally available and through our Messenger service.
Express Check-out: Billing by email and a preference for contactless payments.
ROOMS
Cleaning Regime: Reinforcement of daily cleaning and disinfection measures, as well as deep cleaning and disinfection between guest stays.
Linens: Bed linens and towels are washed at 60C using anti-virus products, and sofas, curtains, and cushions are regularly disinfected.
Customer Service: Majority of in-room materials and hotel information have been converted to a digital form and further assistance is available via Messenger.
Simplified: Both turndown and minibar services are only available upon request.
COMMON AREAS & ELEVATORS
Cleaning Regime: Greater cleaning frequency of surfaces and guest supplies, as well as air conditioning units.
Covid-19 Kit: Hand sanitiser is available in all common areas, bathrooms, and lift entrances.
Elevators: Occupancy limited to 60% capacity, greater frequency of cleaning and disinfection.
RESTAURANTS AND BARS
Covid-19 Kit: Hand sanitiser and paper towels available entrances and bathrooms.
Digital Menus: Easily accessible via smartphone.
Room Service: Service Charge temporarily removed for sick guests.
Cleaning & Food Safety: Compliant with HACCP protocols.
Set Menu and A La Carte: Preferred service styles through our hotels.
Buffets: If required, we will follow a disinfection protocol, staff will supervise the use of the buffet and ensure guest spacing, removal of shared serving utensils and greater emphasis on pre-portioned food.
Billing: New procedure for in-house guests and contactless payment preferred.
POOLS, SPAs & GYMs
Sun Loungers: cleaning between guests use.
Cleaning & Disinfection: In accordance with international protocols.
SPA Services: advance booking is recommended for the SPA, sauna and Turkish bath services.
GUESTS
EXTERNAL GUESTS | IN-HOUSE GUESTS
"TogetherWeCare": Material relating to our "Together We Care" protocol available before and during stay.
Social Distancing: Compliance with social distancing recommendations.
Hand Hygiene: Wash your hands well and often.
Actively Improving: Please fill out our hygiene and safety questionnaires about your experience at our hotels.


INTERNAL GUEST | COLLEAGUES
PPE: Personal Protective Equipment as suitable for each department or function.
"Together We Care": Training and simulations as well as continual updating of procedures.
Social Distancing: Compliance with social distancing recommendations.
Hand Hygiene: Hands washed well and often.
Health Aware: Daily temperature control and colleagues must notify if any symptoms appear.
BOOK NOW
free cancellation